"Too many people grow up.  That's the real trouble with the world, too many people grow up."
Walt Disney
Fig is making big, bold, beautiful steps toward independence.  She's walking, talking, napping without nursing, and the other day we took our first 'baby-carrier-less' hike.  It's true.  No stroller, no baby-backpack, no  sling of any kind, just our high hopes, our crossed fingers and our thirty-pound toddler.  (Along with Pip and our trusty hound, of course!)
It wasn't a long hike, (local readers will know the Nymph Falls trail,) but it was long enough that we wouldn't want to carry Fig the entire way; she was going to have to walk.  And walk she did.  She looked so grown-up trudging along, admiring moss and picking up interesting sticks.  I found it hard to believe that the seemingly seasoned little hiker I was looking at was the same person who took her very first step less than two months ago.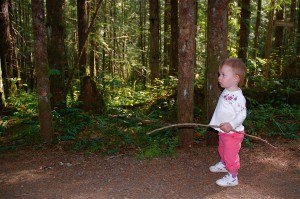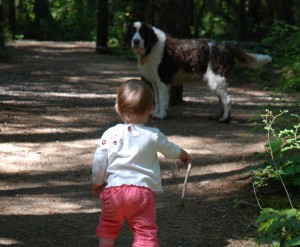 At one point, where the trail borders the river, it was too dangerous for Fig to walk on her own so we tried to hold her hand.  Not a chance.  She had no interest whatsoever in accepting our hand-holding support.  After four or five attempts at taking her hand, we had no choice but to pick her up and carry her. Fig was infuriated.  She looked at me with eyes that said, "How dare you pick me up when I'm a perfectly competent walker?"
I could understand her frustration.  It must be confusing to be congratulated for walking-solo one minute, and reigned-in the next.  We took the time to explain to Fig exactly why we had to pick her up, (because we've deduced that she understands pretty much everything we say now), but she fussed and fidgeted in her daddy's arms until it we reached the falls.
Once we set Fig down on the rock and she could see the powerful water rushing around us on all sides, she was happy to be kept safe in our arms.  I took a few steps away from my little family to take some photos.  I looked through the viewfinder and remembered the first time we'd brought Fig to this exact spot.  She'd been less than two weeks old, and she'd slept through the entire hike on her daddy's chest as he carried her in the Baby Bjorn.  Time doesn't fly, it bolts like lightning.
I took the photo of my two daughters, my husband and my dog and  thought, "There is no baby in this picture."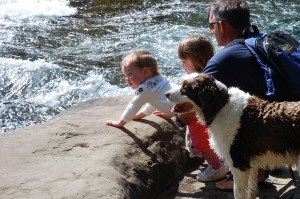 It's official.  My baby isn't a baby anymore.  (But she'll always be my baby.)