"It's a cruel season that makes you get ready for bed while it's light out."
Bill Watterson
I have a confession to make.  My sixteen-month-old daughter has been waking up in the middle of the night, (usually around 3 or 4am,) and I've been nursing her back to sleep.  I feel as though we've regressed back to the first months of night-feeding.  It goes against all of the marvelous sleep-strategies that I've read about, but I've been feeling too exhausted in the wee hours to let Crazybaby cry it out.  I know she's not teething, she's not sick, and I don't think she's hungry.  My hunch is that she likes the comfort of nursing to help her get back to sleep.
Crazybaby was pretty good at sleeping through the night until we went on holiday at the beginning of the summer.  We were sleeping in the same room and when she woke up, instead of rolling over and going back to sleep, she'd see Mama and think, "Boobie!!!"  Unfortunately, it only takes a night or two to establish a new habit, and this is a bad one.
I know that I could probably break this pattern if I just got tough; I'm pretty confident that she would get herself back to sleep eventually if I just let her cry.  I'm just not thrilled about waking-up the household at 3am and losing another hour of sleep.  So, I tell myself that she'll grow out of it.  I tell myself that there's no use getting tough while we're still on summer holiday.  I tell myself it's going to be easier in the fall when it's still dark in the wee hours of the morning, when the birds are still asleep at 4am.  I tell myself that, in the grand scheme of things, my sleep-deprivation is only short-term.  Am I telling myself lies?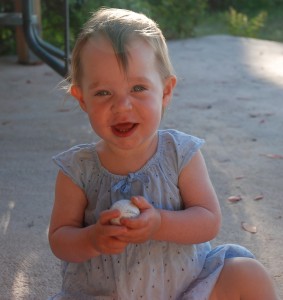 (Here's the Little Miss who's responsible for the dark circles under my eyes.)