"It is our illusions that create the world."
Didier Cauwelaert
Pip's obsession with 'The Wizard of Oz' hasn't waned since she first saw the stage production last summer.  She constantly wears her  (purple) ruby red slippers, she frequently assumes the role of Dorothy, she likes to have her hair braided in Garland-like pigtails, she's going to be Dorothy for Hallowe'en and she has watched the Judy Garland version of The Wizard of Oz in its' entirety more than once.  I was watching the, 'Somewhere Over the Rainbow,' scene with her the other day when she complimented Judy Garland, "She sure is good Mama.  She is very talented.  She must be very proud of herself to do the whole thing like that."
Needless to say, when my friend Fred, who is the father of the actress who played Dorothy this past summer, invited us to his home to meet Dorothy (Sydney), I accepted without hesitation.  I didn't put much thought into how difficult it would be for Pip to process that Sydney was Dorothy.  After we had spent about fifteen minutes at Fred and Sydney's home, Pip whispered to me, "Mama, Dorothy isn't here."  Ouch.
I thought I had prepared Pip.  Many times we had discussed the fact that 'The Wizard of Oz,' was 'pretend.' We had talked about the jobs of actors and actresses, and I had warned Pip that Sydney wouldn't be wearing her costume when we met her, but Pip had still expected to meet Dorothy in all of her glory.  She was disappointed.
I asked Sydney if she had her ruby red slippers, and she brought them out to show us.  Pip examined them; she even put them on her feet, but she still wasn't convinced that she was in the presence of Dorothy.  "I wonder if you could say a few of your lines, Sydney."  I knew I was asking a lot, but Sydney seemed like a good sport.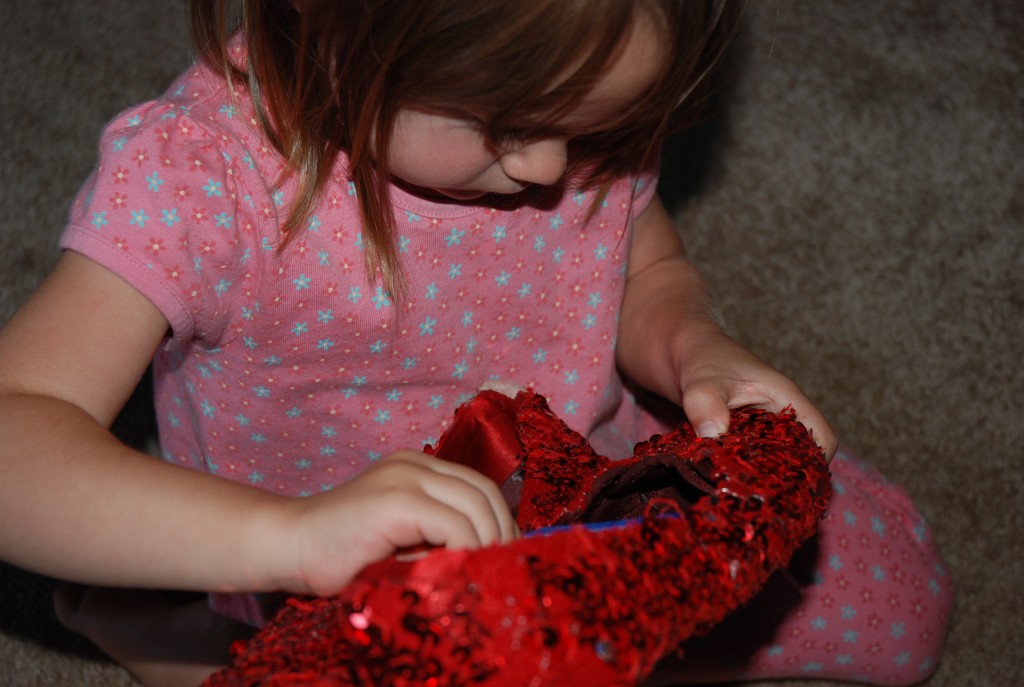 Sydney asked Pip what her favourite parts of the show were.  Pip wasn't ready to talk, she just nestled into my side.  I responded for her, "Pip loves saying lines about Toto."  In a matter of seconds, Sydney clutched her little dog to her chest and launched into one of her monologues about Toto.
When she had finished, Pip looked at me and smiled a gigantic 'it's-really-Dorothy!!!!' grin.  That's what I was waiting for.
Nice work, Sydney; you had  a tough little critic on your hands but you melted her heart for a second time.