"Music is the mediator between the spiritual and the sensual life."
Ludwig van Beethoven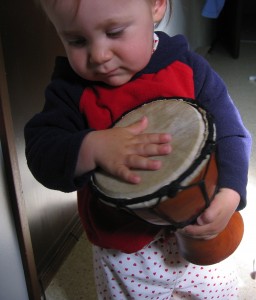 We're a musical family.  Big Daddy-O and I both play guitar, I play the djembe, and our daughters already play a plethora of instruments.  If we're not parading around the house making the music ourselves, we're listening to it on the stereo.  The girls are exposed to many different genres but, I have to admit, we don't listen to a lot of 'Kids' music.  It would be more likely for Pip to launch into, "Knockin' on Heaven's Door," than, "Old MacDonald," any day of the week.
Pip recognizes many of the artists by name, and the other day we were making dinner together when she asked, "Mama, is this Buzz?"
"What Sweetie?"
"Is this Buzz who is singing this song?  Is it Buzz?"
It was Sting.