"I enjoy convalescence.  It is the part that makes the illness worthwhile."
George Bernard Shaw
Pip has caught a summer bug.  No, it's not a grasshopper in a jar, it's a sore throat and a runny nose.  We were supposed to attend a big family dinner this evening, but Pip was running a slight fever, so it was decided that Fig and Big Daddy-O would attend on their own.
It was late afternoon when Pip and I found ourselves all alone in the house.  "What would you like to do, Pip?"  I asked.
"Can we have a bubble-bath together?" was her quick response.  I used to bathe with Pip regularly when she was a baby; long before her younger sister arrived on the scene.  Now it was just too crowded in our little tub for the three of us, and I couldn't remember the last time I'd had a bath with Pip.
"Sure, Sweetie."  I said.  I didn't really feel like a bubble-bath at four o'clock in the afternoon, but I thought a bit of steam might be good for Pip's sinuses, so I started running the water.
Pip helped me pour some lavender bath bubbles into the tub, and the scent inspired me immediately.  I decided to go all-out for our special bath.  I lit some candles and put on some relaxing, meditative music.  I got into the tub with Pip and she started playing with the bubbles while I just relaxed and watched her.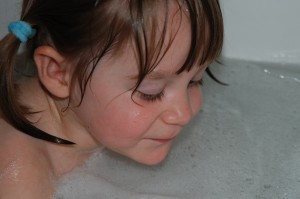 When I was single, living in my Kitsilano condo in Vancouver, I enjoyed many such baths on my own.  It was one of my favourite ways to unwind after work.  And here I was, only a handful of years later, sharing the experience with my three-year-old daughter.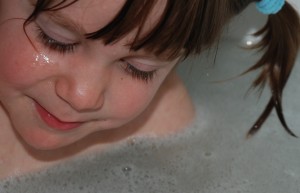 We talked about Pip's favourite topic as of late: The Wizard of Oz.  I washed Pip's face and blew her nose and held her when she wanted to lie back and relax.  At one point she closed her eyes for a bit and it was so still, I could hear the bubbles dissolve around us.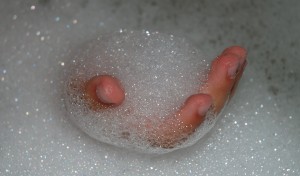 After our bath I made soup, and Pip and I sipped warm broth from mugs while we watched The Wizard of Oz.  By the time Big Daddy-O walked in the door with Fig, Pip and I were snuggled together on the couch, completely caught up in Dorothy's adventure.
No mother enjoys having sick kids, but I have to say that I loved the time Pip and I spent together this afternoon.  I think it nourished both of us.