"A person without a sense of humor is like a wagon without springs.  It's jolted by every pebble on the road."
Henry Ward Beecher
Sometimes I feel as though my home is a comedy club.  If you are currently raising young children who are of speaking age, you know what I mean.  Pip and Fig are constantly sending my husband and I into fits of giggles with their interpretations of the world.  I thought I'd just share a couple of them with you this week, and please feel free to contribute your own zingers.
The girls received fairy costumes for Christmas and they probably ask to wear them every other day.  My husband and I were in the living room when the two girls came around the corner holding hands and Pip said, "We're two fairies and we're going to get married."
Big Daddy-O smirked and I gave him a, 'Don't say what you're thinking,' look.
"I'll perform the ceremony for you fairies," I said, "What are your names?"
"Well, my fairy-name is Desert Rose," said Pip with a flourish.
"Whoaaaaaa," said Big Daddy-O.
"That's a beautiful name!" said I, "and what about your sister?"
"Her name is Clock."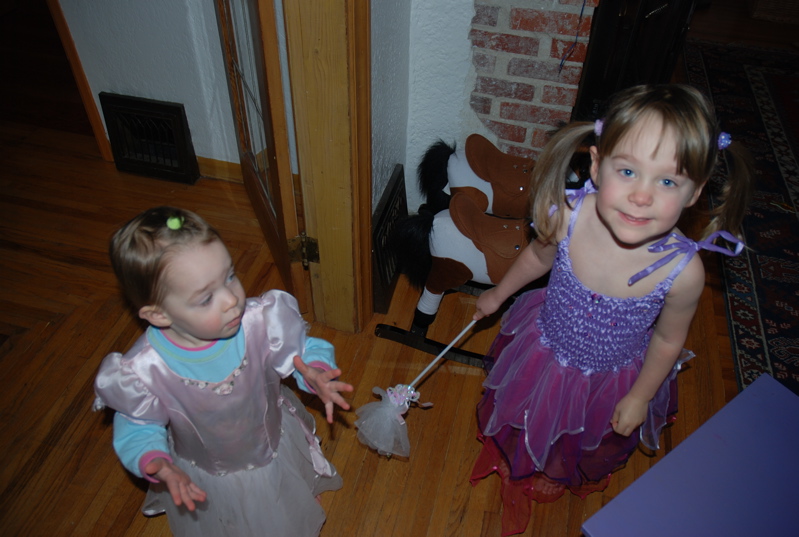 ******
Pip loves music, and she is drawn to any television show that contains music, whether it be The Wizard of Oz or the opening ceremonies for the Olympics.  There is one half-hour show on Treehouse that she enjoys called, 'Yo Gabba Gabba,' and it's like a mini-musical.  The host is a DJ and they sometimes have guest-stars.  The episode that Pip asks for repeatedly, (we have a PVR,) is the one where Jack Black appears as a lost motorcyclist, and sings his way through the many emotions of being lost in a foreign place and then finding new friends.  If you're a fan of Jack Black's you'd love this show.  He's hilarious.
Now that you have the back-story, you'll appreciate this little exchange:
Pip: "Mama, do you know what my new summer jacket does?"
Me: "What?"
Pip: "IT COVERS MY BUM!"
Me: "Wow, isn't that great?"
Pip: "I have a coincidence Mama.  It's just like Jack on Yo Gabba Gabba.  Jack's shirt covers his bum and my jacket covers my bum."
Me: "Nice."
Pip: "Jack's bum is bigger than my bum."
Me: "Yes it is."
Pip: "I wonder how big it is now."
Me: "Jack's bum or your bum?"
Pip: "Jack's bum."
******
Big Daddy-O was driving the girls to the market when Pip said, "Daddy, I wish that you could put a seat in between Fig and I and you could sit in the back seat with us."
"That's sweet Pip.  Do you miss me when I'm sitting in the front seat?"
"No. I just wish you could pass us stuff."
"Pip, that's called a butler."