"I am a typed director. If I made Cinderella, the audience would immediately be looking for a body in the coach."
Alfred Hitchcock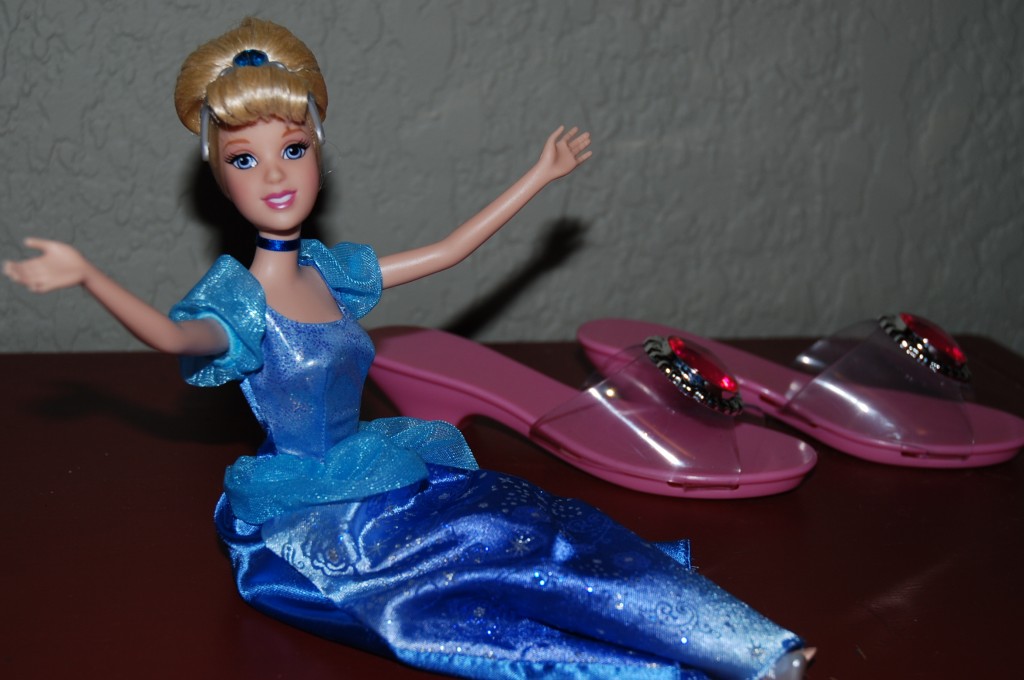 I lost myself for about half-an-hour one Saturday afternoon.  I'm not sure where I went, but another mom, who buys impractical 'high-heeled' shoes and Barbies for her daughter inhabited my body.  Pip had seen an advertisement for Barbie on television, and had decided to spend some of her piggy-bank money on a doll.  She'd also been asking for high-heeled shoes like Dorothy's for weeks.  After explaining that you can't run in high-heels, that they're very uncomfortable and not good for your body, I finally said that they just don't make high-heeled shoes for little girls.  I thought I was telling the truth.
Wouldn't you know it, as we strolled down the toy aisle at 'Extra Foods', Pip spotted a collection of high-heeled 'dress-up' shoes for young girls.  They were three dollars a pair.  "Do I have enough money to get these Mama?"  How does one resist the BEAMING face of a three year old?
"Yes, you have enough money, Sweetie."  It was my voice, but clearly I wasn't in my right mind.  I haven't bought a pair of heels for myself in ten years, (and it's not just because they would elevate me to taller heights than my husband!)  Pip tucked the shoes under her arm and perused a massive shelf of dolls.  I was surprisingly happy to see Pip linger in front of the Cinderella doll next to Barbie.  It's not that I agree with the whole: 'you need a prince to live happily-ever-after' concept, but at least Cinderella had sensible shoes, (oh, except for the glass part,) and she wore a long gown, whereas Barbie was wearing a hot-pink, glittery mini-dress and stilletos!   Pip chose the Cinderella doll.
I could tell when my husband saw Pip's purchases, that he thought I had lost my mind.  "Wow, look at these," he said as he picked up the shoes.  His eyebrows were raised as he looked at me, and the best I could come up with was,
"She bought them with her own money."  Big Daddy-O gave me a look.  You know the kind.
The next morning, while I was enjoying a glorious sleep-in, Pip somehow convinced her father to let her exchange The Lady for The Tramp.  Before I could weigh-in, Cinderella had left the building, and Pip was the proud new owner of the hot-pink Barbie.
When I asked her why she had taken Cinderella back to the store, she said that she thought the prince would choose Barbie instead of Cinderella.  CAN YOU BELIEVE THAT???  I buckled under pressure and responded with something like, "Oh, Pip, I'm sure that the prince would've been able to see that Cinderella had a good heart."  Pip wasn't listening though, she was happily occupied with Barbie's stilletos.
Now, I realize that I can't shelter my daughters from all of the negative female images that society foists upon us, but must I welcome them into my home?  It feels wrong.  I don't like the fact that my daughter now asks me if I have purple lipstick like Barbie.  I think it's unfortunate that she knows about lipstick at all!
So now I'm faced with a bit of a dilemma.  Do I come clean with my three-year old daughter, explain my rationale behind the Barbie-boycott, then take the doll out of her wee hands?  No.  That would be torturous for both of us.  I'm resorting to something much more deceitful: the mysterious disappearance of Barbie.
At the moment she's in a basket atop Pip's wardrobe, where she cannot be reached.  It has been five days since Pip last played with Barbie, or asked about her, and I'm ready to remove her from the premises altogether.  All I need is an opportunity and an alibi.  If Pip asks about The Tramp, my plan is to lie and tell her I have no knowledge of her whereabouts.
As for the shoes, well, I'll be employing the same strategy, mind you, Pip has never had them on longer than two minutes at a time and she has fallen twice while wearing them, so I don't think they'll be missed.
Whenever I feel guilty about the prospect of lying to Pip, I just think about her bed companion.  Pip sleeps with an adorable little stuffed pig named Wilbur.  Now, that's more like it.