"Language… has created the word "loneliness" to express the pain of being alone.  And it has created the word "solitude" to express the glory of being alone."
Paul Johannes Tillich, The Eternal Now
Pip and I were snuggling together in bed one morning while Big-Daddy-O and Fig were getting a fire started.  "Mama, are there some families where each Mama has one kid?"
"Sure, Pip."  I cited a couple of examples of friends of ours.  One family consists of a brother and sister who have two mothers, and the other family has one child.
"That's what I want, Mama, just one kid and one Mama.  You can be my Mama and Fig can have another one."  Instead of explaining the impossibility of her suggestion, I tried to probe Pip's mind a little deeper.
"Why do you want that, Pip?"
"Mama, it's hard to be a big sister."
"Tell me what's hard, Sweetie."
"Well, all the sharing, I have to share all of my stuff and Fig can reach everything in my room; she wrecks my set-ups and takes the skirt off of Dorothy."
I promised Pip that we could find a place in her room to store the special toys that were just for her.  I then told her that Fig was a part of our family, we loved her like crazy and she was here to stay.  I reminded Pip of how Fig makes her laugh and how much fun they have dancing together, riding (pretend) horses together, and chasing each other around the house.  By the end of the conversation, Pip had a smile on her face.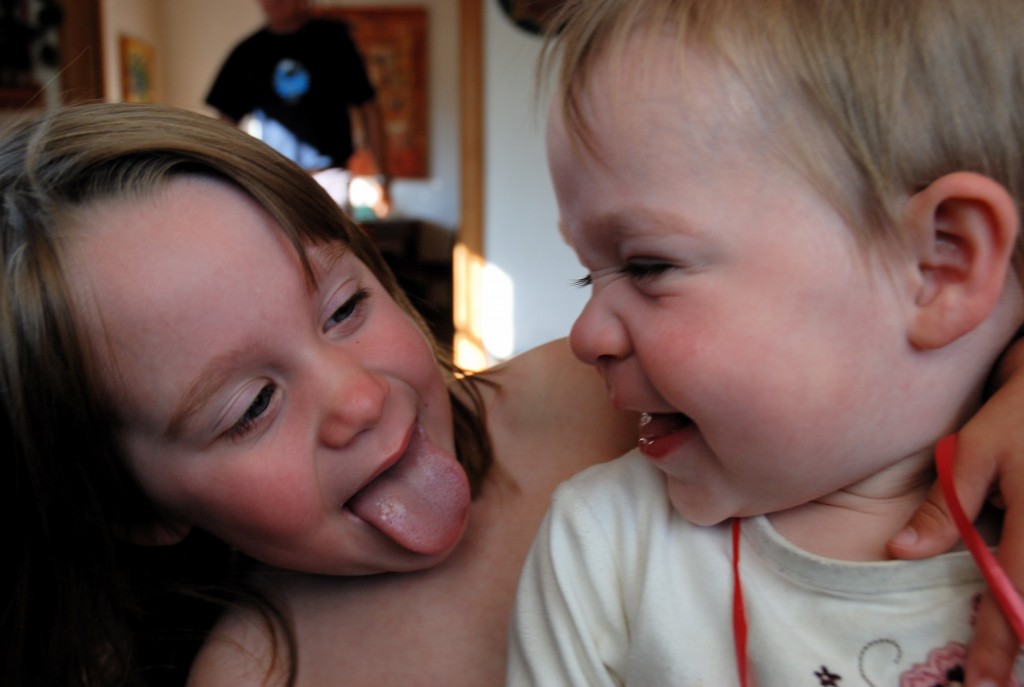 It was a good conversation; a good reminder for me that Pip needs her space.  Pip's bedroom is on the main floor of our home and is much larger than the nursery which is upstairs, so Pip's room is 'the toy room.'  She's never really allowed to shut her sister out of her room because then Fig wouldn't have access to the toys, puzzles, books, etc.
On top of that, we always insist that the girls share everything.  If they aren't willing to take turns, then the toy is removed for a period of time.  It's a decent rule, but I also appreciate that there are some precious belongings that Pip would rather Fig not handle.  Our youngest daughter is not the gentlest toddler in the world and she's been known to rip the antlers off a moose, de-pop a few 'pop-up' books and chew on puzzle pieces.  Pip deserves to have a few toys that are out-of-Fig's-bounds.
I am a big sister, and I remember spending a lot of time playing with my younger siblings, but I also remember shutting the door to my bedroom and spending time on my own.  I needed my own space.  I still do.  I can certainly relate to Pip's wishes, and I'm a bit surprised that I haven't made more of an effort to ensure that Pip has a place to retreat to.  Ah well, sometimes I need to be hit over the head, and luckily Pip was gentle.